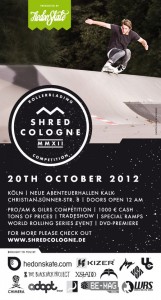 Shred Cologne is a Rollerblading competition in Cologne, Germany.
Date: 20th Ocotober 2012
Location: Top Secret
What we can tell: There will be big Ramps and Ghetto spots as well.
Doors Open: 12:00
Entry Guest: 5€
Entry Rider: 10€
Competitions:
Kids Session (Chimeras Most Creative Trick Challenge)
Amateurs
Girls
Pro
Prize money Pro: 1000 Euro
Amateurs/ Girls: The Winner of the Amateurs 1st place will win a new pair of VEGAN Adapt Skates + Tons of prices for the other Skaters.
We are a qualification Event for the W.R.S. 2012 http://www.worldrollingseries.com
Everything we do is for the love of Rollerblading!
More info: http://shredcologne.de/