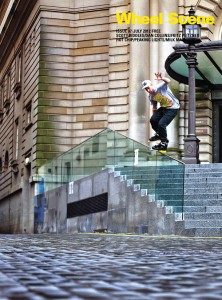 Via http://www.wheelscene.co.uk :
"….It took us a little longer than we planned, but Wheel Scene Issue 7 is finished, printed and currently making its way to venues across the world!
You may notice that it is no longer tabloid size. That's right, we conformed to convention and transformed our publication to standard magazine size. Don't worry, there is still the same amount of high quality rollerblading and music content. It's just that now it's a little easier to carry around!
In this issue we speaks with Erick Rodriguez, Scott Riddles, Mihai Militaru, Fabiola da Silva, Lonnie Gallegos, Dan Collins, Aaron Turner and more.
We also have a little chat with Hot Chip, Peaking Lights, Milk Maid, Get Cape. Wear Cape. Fly and a few others.
Plus, check out that AMAZING front torque down a GLASS DROP RAIL (or ledge depending on your disposition).
What are you waiting for? Hit up your local stockist and ask them to save you a copy!…"